Nazi-Pope Redux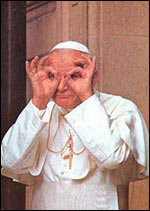 I've said it before, I'll say it again, Ratzinger is a fucking asshole.
Cardinal Ratzinger warns about dangers to Roman Catholic Church in final stump before conclave to choose new pope
In the following document he manages to dismiss other religious beliefs (particularly the "Eastern" ones) and specifically acceptance of them as "so-called pluralist theology of religion"and to assert that "putting praxis above knowledge in this way is also a clearly Marxist inheritance." It should come as no real surprise (being that he is an adherent to a church) that he distrusts individuality. What is surprising is that he sees it as an antagonist to progress, "We are moving toward a dictatorship of relativism which does not recognize anything as for certain and which has as its highest goal one's own ego and one's own desires." Rather ironic coming from a man who claims to dislike Marx/ism.
Posted by rasafrasit at
03:23 PM
|
Comments (0)